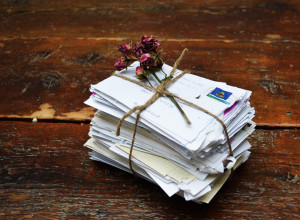 "There's a little rose wood casket
Sitting on a marble stand
With a packet of old love letters
Written by my true love's hand."
Love letters. Does anyone write love letters anymore? What makes a love letter? Of course, the song lyric is a very sad one because in this sad ballad the true love betrays her for another. But, the love letters still show the love she once had in the past.
While unpacking I found some old letters. Not love letters, but letters of love, daily routines, the weather, and of missing one another.
No one really writes letters anymore, how sad to lose such a valuable art. One of the letters I found was from my husband, on his first remote assignment in Turkey. How young we were and how his heart ached of missing me and our two young boys. O my, the things he missed and the yearnings he had in his heart to be home. There was no email, no Skype, no instant pictures to send nor videos for him to watch. There was just the long wait of watching the mailman deliver that weeks letter or two.
There was a letter in the box from my grandmother. It was written just a few weeks before she was going to take her first plane ride to Texas visiting Vic and I. There was no mentioning of her worries about flying but only of how she could not wait to see me before her first great grandson was born. She wrote about my grandfather who would soon be retiring from work and how they hoped to spend lots of time on the mountain to get out of that hot humid heat Georgia is known for. She wrote how much daddy misses me and how quiet the house is without me. I can tell she changed the subject quickly to stop the thought of missing me.
There were other letters and what I loved so much about them was the daily talk of everyday life. I could see daddy out cutting the grass and mamma sitting in front of her sewing machine making quilts.
I loved the talk of the garden, of how the tomatoes were coming up great but the beans were not going to be the best this year. Of who had came over for dinner and what they had to eat. O how them letters would pull me back to a time where I felt loved, felt safe and warm and how my memory would pull out smells from my childhood.
The one thing about letters is you are holding the past in your hands. You see their handwriting, you look at the post date on the envelope and you notice the price of the postage stamp. Writing a letter is a labor of love, and its a lost art.
I think I need to write more love letters. I want my grandchildren to be unpacking boxes one day and come across a packet of old love letters that I had written to them. I want them to read and hold a part of the past and feel safe and warm.