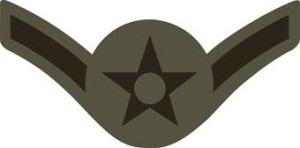 I know this is a little late, but with Veterans Day still being fresh I wanted to tell the story of my husband getting his first strip.
Still being newly weds and with a baby on the way, money was tight. Vic had finished his basic training and was now in Law enforcement training, still at Lackland AFB in San Antonio, TX.
We lived in a tiny cottage off-base where Vic would have to leave around 4:00 in the morning, trying his best not to wake me. When I awoke, I'd spend my days watching TV and working on a baby quilt for our first child. My days were long but Vic's were even longer with his early morning rise and an evening accommodating a young wife with child. He was one of the few Airmen living off base with a wife and baby on the way. He would come home from his day, eat supper and get his uniform ready for the next day. He would press it so the crease would be just right, and then spite shine his boots, polishing them so they would glimmer. We'd then sit on the couch where he would rub my belly and watch a little TV before going to bed at 8:00.
Well the day came when Vic received his first stripe. He would be a an Airman verses an Airman Basic. It did come with a slight pay increase, not much in those days. He came home that afternoon so excited, he would officially be an Airman the next day. We did our normal routine supper, belly rub and TV but during supper he showed me how to sew his stripe on his uniform.
He took out a dollar bill, placed it on the shoulder of his uniform and the length of the dollar bill from the shoulder to where it stopped was where you sew the stripe, center across the crease.
"Now you can do this, can't you?" Vic asked me. "I think I am able to do it", I replied. So, while he went to bed, I went to work on his uniform. Like the elves working late during the night at the clobber's shop, I was busy working on Vic's first stripe for his uniform.
Vic got up before the sun did and dressed in the dark like normal, as not to awaken me. He rubbed his hands across the stripes, so proud he was. He gets to work and gets in formation for guard mount, still dark. All the airmen standing straight waiting for inspection but Vic was standing a little straighter and a little more prouder than the rest.
As the sun was coming up, so was Vic's training Instructor. The T.I. walked passed Vic, came to a stop, then walked back and stood in front of Vic. "Airman Langston do you have something you'd like to announce?" Vic replied "Sir, I got my first stripe, sir.". "I can see that, is there anything ELSE you would like to express?" replied the TI. Vic was a somewhat confused, he had no idea what to say. "Sir I don't understand?" His TI related "Your stripes airman, anything you want to mention?"
Vic looked down at his stripes. They were in place just like he instructed but, his sweet wife had sewn them with pink embroidery thread and stitched them with french loops all the way around the stripes.
My poor husband had to endure these pink stitched stripes all day.
He came home, stood at the door and ripped those stripes off and said "why pink….WHY?
"It's what I had in my needle at the time, was that wrong?"
Vic was a good husband and said nothing else to his nonmilitary young bride expecting his first child.
That night Vic sewed his stripes back on with the green thread he bought at the clothing and sales at the base. For the next 22 years, I was never asked to sew another stripe on again.