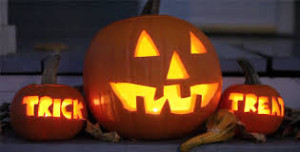 Five little pumpkins sitting on a gate.
The first one said, "Oh my it's getting late."
The second one said."There are witches in the air."
The third one said, "But I don't care."
The fourth one said, "I'm ready for some fun."
The fifth one said,"Let's run and run and run."
"Woooooo" went the wind and out went the lights.
And 5 little pumpkins rolled out of sight.
I have no idea who wrote this little poem. It has been around forever. I remember learning it back in kindergarten at the First Baptist Church in my home town when I was 5. I remember how excited we would all get when we got to the woooo part and clapped our hands "out went the lights" we would scream and giggle while trying to get out the last verse, then beg to to it again.
I loved Halloween. The first holiday to start things off. Back when stores put out the seasonal items at the appropriate time. Going to the Dixie Dime, looking at the store costumes with the old plastic masks with the rubber band attached. Which would get tangled up in my hair and would have to be cut out at the end of the night. Mom would always have to make the eyes bigger and the nose holes larger so we could breathe.
Most of the time my grandmother or my mom would make my costume. I once had a homemade bunny suit complete with standing ears. Once I was the great pumpkin (my mom really did a good job on that one.) Speaking of the Great Pumpkin, the cartoon specials back then when they were called cartoons, they were special, because you had to wait all year for them to come on.
There were no DVDs or no YouTube to watch over and over. You had one chance and if you missed it, arrrgggg you would have to wait a whole year to see it again. I would sit as close as I could to the television in my little red rocking chair till my granddad would pull me back. "Your ruin your eyes sitting that close.", he'd say. I don't know why he was so concerned about my eyes when his big leather chair was just as close but, his chair never moved.
My grandmother would make fudge while I rocked away. Then CBS would announce a "this is a special presentation" followed by that classic "Peanuts" music……..It was magic.
Trick or treat was different too. I feel sad for today's children and their assembly line way of trick or treat. Everything is pre-packaged. Mothers hanging over them, asking those passing out the treats if it's sugar, gluten, and dairy free. Nowadays there's even a time to start, a time when you must finish, different color pumpkins meaning different things and "this is a scare free zone." Really? It's Halloween.
One of my favorite Halloween nights was with my cousin Tammy and her cousins. I must have been in the 4th or 5th grade. I can't remember what my costume was but I'll never forget Greg Hogan dressed like a woman. We called him Gertrude the whole night. If I remember it was warm that night and Gertrude went mostly barefoot. His older sister, Debbie, and younger sister Melissa made up the rest of our group. No parents, just us and a night of adventure ahead of us.
We walked all over the small town of Eton going from house to house. Walking down dark roads telling ghost stories and trying to scare each other. Knocking on doors yelling "Trick or Treat" and filling our bags (no plastic pumpkins for us) with no small "fun size" candy back then. You got full sizes and they were bigger. The best part of the night was going to some of the older ladies homes where they would hand out slices of fudge cake and you would sit on the porch, eat the cake and drink it all down with a glass of milk. They would ask "who do you belong to?" and we would tell them and they would say, "Oooo, I remember your parents coming here on Halloween night." Then there were the homes with popcorn balls, caramel apples, homemade cookies, and fudge. By the end of the night we felt like Templeton the rat at the fair from the book "Charlotte's Web".
We would finally call it a night as we watched some of the porch lights turn off for the night. You could still see the glowing eyes of pumpkins and the candle inside of them slowly melting down as we were dragging our treasure of candy back to the house. It was a great night and one memory I hope will stay with me forever.