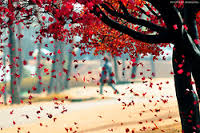 "Come little leaves,." said the wind one day,
"Come o'er the meadows with me and play,
Put on your dresses of red and gold,
For summer is gone and the days grow cold."
Soon as the leaves heard the wind's loud call,
Down they came fluttering, one and all,
Over the brown fields they dance and flow,
Singing the sweet little songs they know.
– Written by American Poet George Cooper.
My mama would often recite this poem this time of year. She said she had memorized it while in grade school.  Grade school was really the only schooling she ever had, she stopped after 6th grade to work in a spread mill in our small town.  There she made bed spreads till the war broke out and to the factory and made parachutes.
Mama made all my clothes when I was young.  But, when I was Jr. high, she started making quilts. She didn't make them by hand, but on her old sewing machine.  It was quicker and less painful on her hands.  This led to her making them and selling them near the overlook on Fort Mountain.  She loved sitting up there on the mountain while the visitors, who came over the mountain to look at the Fall foliage.  The visitors  would stop at the small cafe and at the rock shop then, walk over and look at her quilts she had on a make shift clothes line.  Her and Daddy would load the two-toned blue Ford truck on Friday night with her quilts and pillows to take up on the mountain the next morning
Mama and Papa were a well-oiled team.  Daddy would cut out the squares while mama would place them and sew.  He had cut out a pattern from a piece of plywood and must have gone through thousands of markers tracing the pattern to the different fabric.
Years later when I was married and happened to be living in a trailer behind their house with my two young boys, I could see the light come on in the built in carport early in the morning.  I could see papa through the window cutting out squares. There goal every year was to have 100 quilts to sell on the mountain.
They enjoyed that time of their life sitting up there on the mountain.  Papa loved to talk to the people, even if he couldn't hear half of what they were saying.  They often were asked to have pictures made of them standing in front of their quilts,.
Sometimes they would use the phone in the rock shop to call me to bring more quilts.  I would load up my car with quilts and bring them up there.  Mama was proud of her work and had every right to be.  People of their generation needed to feel worth.  Hard workers didn't mind hard work if it accomplished something worthwhile.
I hope someday I will run into someone who happened to come along the mountain and bought a quilt from my grandparents.  We still have the ones she gave us and I can put my hands across the fabric and can still feel the touch of those strong loving hands of hers.