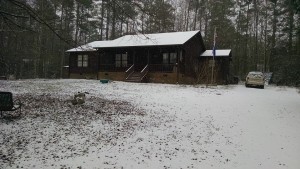 Yesterday we sold our home. We thought it was our last home, the one where we would grow old together. It was a great little house nestled in the woods. I have gathered great memories there. The house where our grandchildren came to visit. Everywhere I see faded visions of my life; my life with goats started and ended there, also my chickens and bunnies. The final resting place of my wonderful dog Sid and my darling Libby. But now we are once again packed up and starting again to find our forever home. It makes me think back to our very first move. Right out of high school, recently married , and Vic joining the Air Force. Funny everything we really owned fit in the back seat and trunk of our car as we headed out to San Antonio, Texas. Vic had gone through basic training and was now going through his tech school there. We were young and now expecting our first child.
We found a cute little furnished cottage to settle into. To me it was more of a playhouse. We had very little and even less money. I spent my days embroidering on a baby quilt, and trying to figure out what to make for supper every night. We lived there for 8 months.
Then, it was on to Tucson, AZ. We had most of our few things shipped on ahead to the base so once again we packed up the little car and pulled a tiny U-Haul carrying a small white cradle for our son Chris who now filled our back seat. We spent 3-4 days crossing Texas and New Mexico before we crossed the state line into Arizona. I do remember it being around 3 o'clock in the morning and I turned on the radio and the first song I heard was "We Got Spurs That Jingle Jangle Jingle". I knew then we weren't in Ga but in the west. It was hot, and rocky with very few trees. Even the mountains were just great big rocks to me. The girl from Georgia was dealing with culture shock.
Finding a place to live was hard. We had to give up our room on base after so many days and finally found an apartment close-by. I remember sitting next to a little bush, I had placed the baby quilt under it and lay Chris on it so he would have some shade while we waited for our apartment to be ready. I remember Vic coming out of the Manager's office with a pale look on his face. "They took it all", he said. What do you mean they took it all? "They took all the money, first and last month rent and a security deposit. Now I was pale because I knew it was a week before Vic got paid again and we still needed diapers, formula and groceries. I panicked, I went to the nearest pay phone (this is 1981) and called my mom at work, think goodness she had a toll-free number. She told us she would wire us money to our checking account and it should be in the bank tomorrow.
You know it was those early years and being so far from family where we really learned to depend on each other. It made us strong, yes I did call my mom for that emergency. But, that was what it was, an emergency, and that is when parents should help. I think one of the best gifts that parents can give their children is not give them everything they want but, be there when there is a need.
We lived there for 14 months then, on to another move. I will write more on that next time.